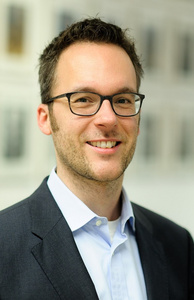 Chairholder
Prof. Dr.
Martin Thomas
Hibbeln
Room:

LH 005

Telephone:

+49 203 37-92830

Fax:

+49 203 37-93600

Email:

Address:

Chair of Finance
Mercator School of Management
University of Duisburg-Essen
Lotharstraße 65, Building LH, Room 005
47057 Duisburg
Germany
Curriculum Vitae:
Since 10/2015: Chair of Finance (Assistant Professor with Tenure Track), Mercator School of Management, University of Duisburg-Essen
2015: Interim Professor for Financial Services, University of Bremen
2014: Visiting Researcher, Rotterdam School of Management, Erasmus University (Netherlands)
2013: Visiting Researcher, College of Business, City University of Hong Kong (Hong Kong)
2010–2015: Assistant Professor, Department of Business Economics, TU Braunschweig
Habilitation in Business Economics, Topic: "Risk Assessment and Risk Transfer in Financial Institutions"
2004–2010: Affiliated Research Fellow, Department of Business Economics, TU Braunschweig
PhD. (Dr. rer. pol.) in Finance, Topic: "Risk Management in Credit Portfolios – Concentration Risk and Basel II"
2004: Diploma (Dipl.-Wirtsch.-Ing.) in Business Economics and Electrical Engineering, TU Braunschweig
Grants and Awards:
SWFA Best Paper Award (2020)
WKWI/VHB Best Paper Information Systems (2019)
CIONET European Research Paper of the Year (2018)
Heinrich-Büssing-Preis (2017)
Liechtenstein Research Prize (2016)
MFA Outstanding Paper Award in Financial Institutions (2015)
McKinsey Business Technology Award (2012)
fme-Award in Economics (2010)
Fields of Research:
Risk Management in Financial Institutions
Risk Transfer with Structured Products
Capital Markets
Digital Finance
Regulating Financial Markets
Publications:
You can find an overview of my publications here: Publications
Many of the publications are available for download: SSRN
Presentations:
You can find an overview of my presentations here: Presentations